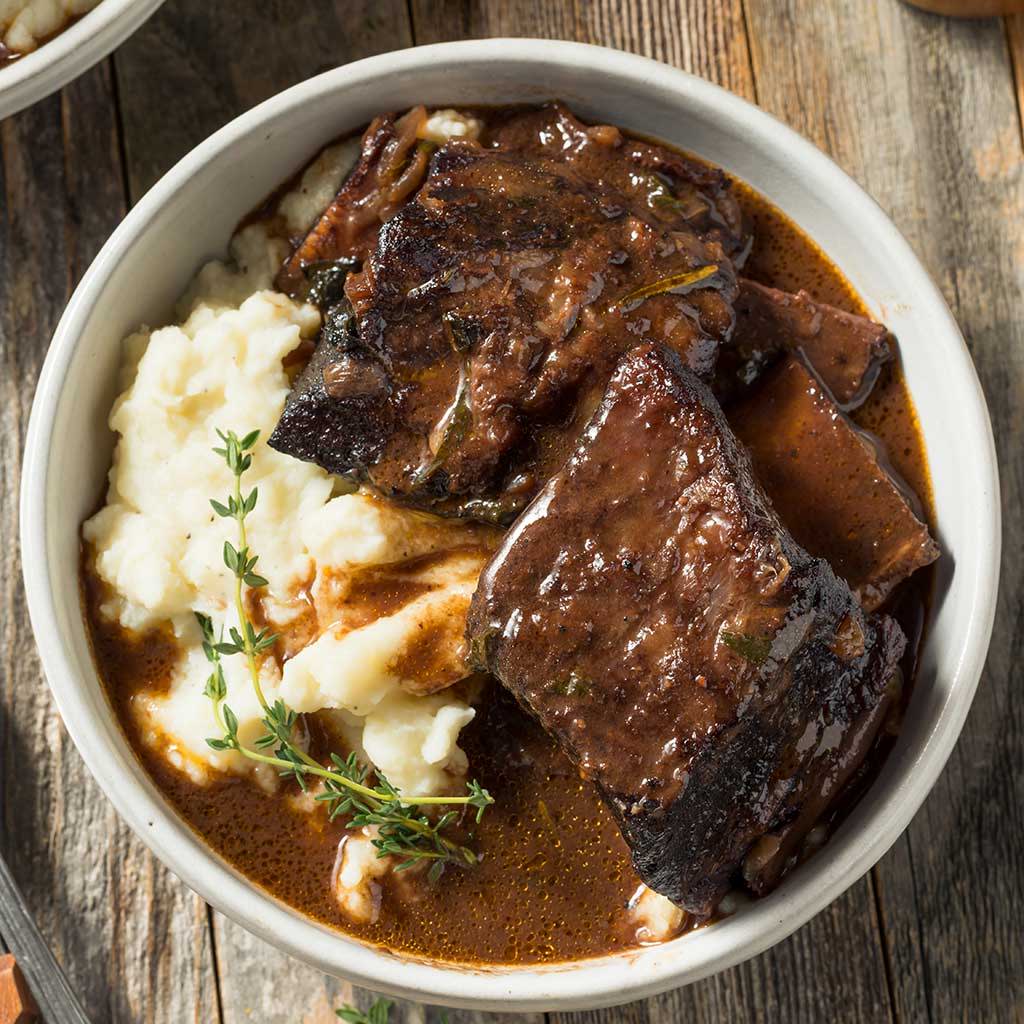 Serving Size:

4

  |  
Cook Time
:
3 hrs
Ingredients:
4 cups Osso Good Chicken Bone Broth (2 pouches)
2 Tbsp olive oil
6 Short Ribs with bones
Celtic sea salt & Freshly ground pepper
1 Large organic onion (finely chopped)
2 Organic Carrots (sliced)
3 Organic celery ribs (sliced)
3 garlic cloves (thickly sliced)
One 750 mL bottle dry red wine
4 Thyme sprigs
Method:
In a large skillet, heat the oil. Season the ribs with salt and pepper. Add them to the skillet and cook over moderate heat, turning once, until browned and crusty, about 18 minutes. Transfer the ribs to a shallow baking dish in a single layer.
Add the onion, carrots, celery, and garlic to the skillet and cook over low heat, stirring occasionally, until very soft and lightly browned, about 20 minutes. Add the wine and thyme sprigs and bring to a boil over high heat. Pour the hot marinade over the ribs and let cool. Cover and refrigerate overnight, turning the ribs once.
Preheat the oven to 350 degrees F. Transfer the short ribs and marinade to a large, enameled cast-iron casserole. Add the Osso Good Chicken Bone Broth and bring to a boil. Cover and braise in the lower third of the oven for 1 1/2 hours, until the meat is tender but not falling apart. Uncover and cook for 45 minutes longer, turning the ribs once or twice, until the sauce is reduced by about half and the meat is very tender.
Transfer the meat to a clean shallow baking dish, discarding the bones as they fall off. Strain the sauce into a heatproof measuring cup and skim off as much fat as possible. Pour the sauce over the meat; there should be about 2 cups.
Preheat the broiler. Boil the meat, turning once or twice, until glazed and sizzling, about 10 minutes.
Best enjoyed in a bowl on top of an island of mashed potatoes with sauce reduction drizzled over it.