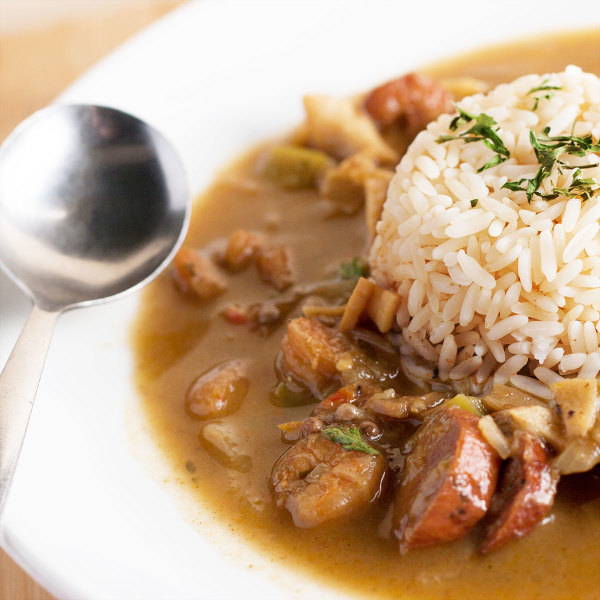 Serving Size:

4

  |  
Cook Time
:
1 hr + 2 hrs simmer time
Ingredients:
1 cup Ghee
1 cup all-purpose flour
2 cups chopped onions
1 cup celery (chopped)
1 cup green/red bell pepper (chopped)
1 lb andouille sausage
2.5 lb chicken thighs (bone-in)
2 bay leaves
1/2 tsp cayenne
1 tsp salt
1 Tbsp cajun seasoning
1/4 c parsley (chopped)
1/2 c green onions (chopped)
Rice (2 Tbsp ghee)
1 pouch Osso Good bone broth
2 cups white rice (throw it all into the rice cooker)
Method:
In a cast iron skillet, add 1 Tbsp ghee and cook andouille sausage until browned on each side, about 8 minutes. Set aside. Once cooled, slice lengthwise and then in 1/2 " slices. In the same skillet, add 1 Tbsp ghee and cook chicken thighs until cooked through, about 6 minutes. Set aside.
Add remaining ghee and flour and stir slowly and constantly over medium heat, about 15 minutes until it turns a dark brown color, like chocolate.
Add onions, celery, and peppers; stirring for 8 minutes. Add sausage, bay leaves, salt, and cayenne. Add the Osso Good bone broth and stir well. Bring to a boil and then simmer over medium low heat for 1 hour; stir occasionally. Add chicken thighs. Simmer for 1 hour; stir occasionally.
Remove chicken thighs, and shred with 2 forks. Discard bones and skin. Simmer over low heat for 1 hour, stirring occasionally. Add parsley and green onions.
Serve over rice.