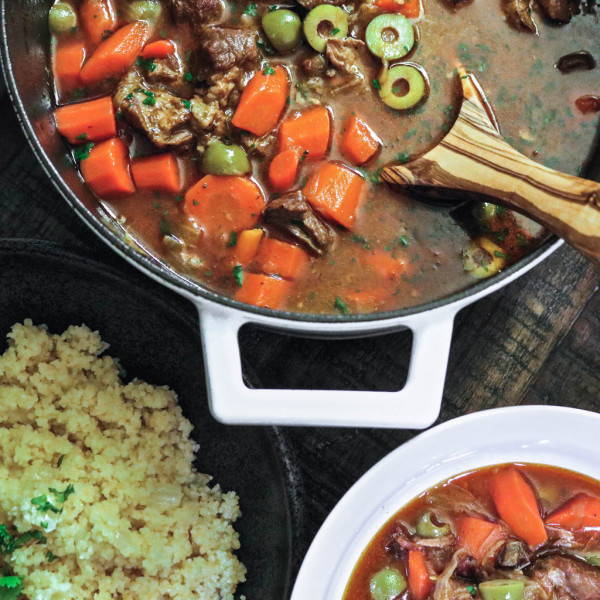 Serving Size:

4-6

  |  
Cook Time
:
3 hrs
Ingredients:
5 cups Osso Good Chicken Bone Broth
4 lb Boneless Lamb Shoulder Roast (trimmed and cut into 1 1/2 inch pieces)
3 Tbsp Olive Oil
1 Jumbo Onion (halved and cut into 1/4″ thick slices)
1 Lemon Rind cut into 4 pieces (plus 1/2 tsp grated zest plus 1/4 c juice)
Minced Garlic 1 Tbsp
2 1/2 tsp Paprika
1 tsp Ground Cumin
1/2 tsp Ground Ginger
1/2 tsp Ground Coriander
1/2 tsp Ground Cinnamon
1/4 tsp Cayenne Pepper
1/4 c All-Purpose Flour
2 Tbsp Honey
1 lb Carrots (peeled and sliced 1″ thick)
1 c Pitted Greek green Olives (halved)
1 c Dried Apricots (chopped)
1/4 c Minced fresh Cilantro
Method:
Preheat oven to 325 degrees F. Pat lamb dry with paper towel and season with salt and pepper. Heat 1 Tbsp oil in dutch oven over medium high heat. Sear lamb on all sides to line bottom of dutch oven; transfer to bowl. Repeat with 1 Tbsp oil and remaining lamb.
Add remaining 1 Tbsp oil to dutch oven. Add onions, lemon zest strips, and 1/4 tsp salt. Cook until onions are softened, stirring often. Stir in minced garlic, paprika, cumin, ginger, coriander, cinnamon, and cayenne and cook until fragrant; about 1 minute. Stir in flour and cook for 1 minute; stirring until completely mixed.
Slowly stir in <a href="https://www.ossogoodbones.com/products" target="_blank">Osso Good Chicken Bone Broth</a>, scraping sides of dish until completely dissolved. Stir in honey, browned lamb and any juices in its bowl. Bring to a simmer. Cover, transfer pot to oven. Cook for 1 hour.
Stir in carrots and continue to cook in oven, covered, until lamb is tender, 1 to 1 1/2 hours longer.
Remove tagine from oven and discard lemon zest strips. Stir in olives and apricots, cover, and let stand off heat for 5 minutes. Stir in cilantro, lemon zest and juice, and garlic paste. Season with salt and pepper to taste. Enjoy!