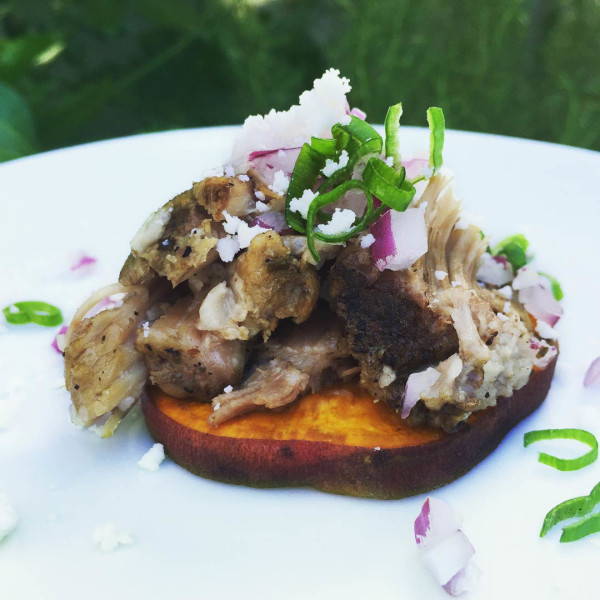 Serving Size:

4-6

  |  
Cook Time
:
40 min+ roasting time
Ingredients:
16 oz. Spicy Pork bone broth
5 lbs Pork Shoulder
1 Medium Organic Onion (coarsely chopped)
1 Jalapeno (chopped OR 1 tsp Red Pepper Flakes)
1 1/4 Tbsp Celtic Sea Salt
1 tsp Fresh Cracked Black Pepper
4 Cloves Garlic
1 Organic Orange (juiced)
1 Tbsp Oregano (dried)
2 tsp Cumin (ground)
1 Tbsp Olive Oil
1/2 Small Red Onion (minced)
1 Green Onion (sliced)
Cotija Cheese (crumbled)
2 Large Organic Sweet Potatoes (sliced about 1/4″ thick)
Method:
Rinse and dry pork shoulder, rub with salt and pepper.
Combine Oregano, Cumin, and Olive Oil then rub all over pork.
Place pork in a slow cooker (fat cap up), top with onion, jalapeño, garlic, squeezed orange juice, and Osso Good Bone Broth.
Cook on low for 8-10 hours, or on high for 6 hours.
Slice Sweet Potatoes, about 1/4″ thick. Rub with coconut oil and season lightly with salt and pepper. Bake for about 12 minutes at 350 degrees, until just browned.
Chop the red and green onion. Set aside.
The meat should be tender and falling off the bone. Remove from the slow cooker and let cool slightly. Then shred the pork using two forks.
Reduce the pork juices in a sauce pan, or leave as is to pour over tacos like a gravy.
Place shredded pork in pan, sauté until crispy.