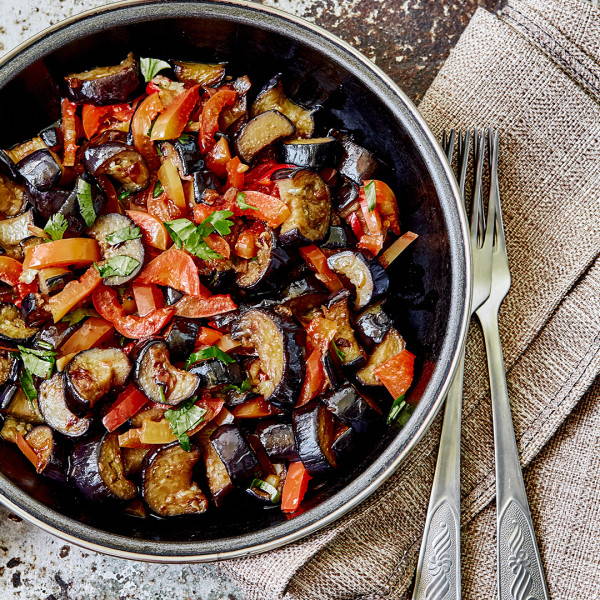 Serving Size:

4-6

  |  
Cook Time
:
40 min.
Ingredients:
2 Pouches Osso Good Chicken Bone Broth
2 tablespoons olive oil
1 onion
2 garlic cloves
1 medium eggplant
diced
1 medium zucchini "cubed"
1 medium yellow squash "cubed"
2 peppers- any color "diced"
1 can of crushed tomatoes
1 cup of flaxseed meal
3 tablespoons grass-fed butter
Salt and pepper to taste
Method:
Heat olive oil over medium heat in a large sauce pan or Dutch oven. Add onion and bell peppers and cook until they start to soften, 2–3 minutes.
Add in garlic, zucchini, squash, eggplant, and salt and pepper, and continue cooking for an additional 5–7 minutes.
Add in crushed tomatoes, stir to combine, and bring to a simmer. Allow vegetables to simmer until fully softened, approximately 10 more minutes.
While the vegetables are cooking, bring 4 cups of Osso Good Bone Broth to a boil in a large pot.
Once the broth comes to a boil, slowly pour in the 1 cup of flaxseed meal and whisk continuously for 3–4 minutes.
Reduce the heat to low, cover, and let cook for 12–15 minutes.
Once the flaxseed are finished cooking, stir in salt and pepper to taste, plus the 3 tablespoons of butter.
Serve ratatouille over flaxseed.