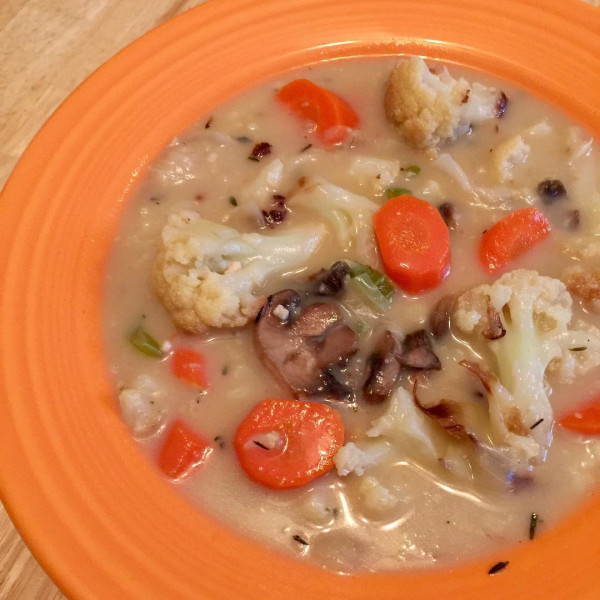 Serving Size:

4-6

  |  
Cook Time
:
1.5 hrs
Ingredients:
2 Pouches Osso Good Chicken Bone Broth
1 large head of cauliflower (roughly chopped into large chunks)
12oz mushrooms (sliced)
1 tablespoon olive oil
3 cloves garlic (minced)
1/4 cup unsalted butter
1 medium onion (diced)
2 carrots (chopped)
2 celery stalks (sliced)
1 bay leaf
1/2 teaspoon dried thyme
1 1/4 cups 1% milk or skim
1/2 cup shredded white cheese (I used white cheddar)
Salt and black pepper to taste
*Optional: Serve with Corn Bread
Method:
Preheat oven to 400 degrees F. Place chopped cauliflower and garlic cloves on a large baking sheet. Drizzle with olive oil and toss until well coated. Season with salt and black pepper, to taste.
Place pan in the oven and roast for 20-25 minutes or until cauliflower is tender, stirring once. Remove from oven and set aside.
In a large soup pot, melt butter over medium high heat. Add the onion and cook for 3-5 mins. Add carrots, mushrooms and celery and cook for 5 minutes, stirring occasionally.
Finely chop the roasted garlic cloves. Add the garlic, roasted cauliflower, bay leaf, and dried thyme to the pot.
Add Bone broth and stir. Simmer for 10-15 minutes. With stove on low- stir in the milk and shredded cheese. Stir until cheese is melted and chowder is creamy.
Season with salt and black pepper, to taste. Soup thickens after being refrigerated.