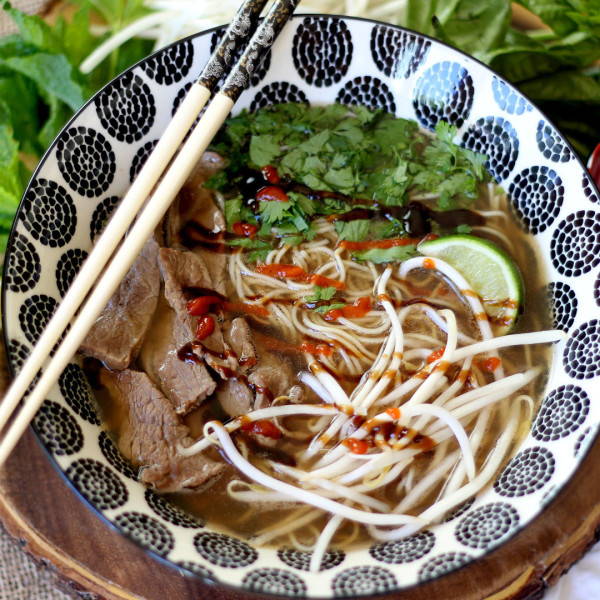 Serving Size:

4

  |  
Cook Time
:
45 min
Ingredients:
4 Pouches Beef Bone Broth
1" ginger (halved lengthwise)
1/2 onion
2 Tbsp onion
1/2 a cinnamon stick
1/4 tsp coriander seeds
1/4 tsp fennel seeds
1 star anise
1 whole clove
1/2 cardamom pod
1 T fish sauce + more to taste
Salt to taste
3/4 lb flank steak (sliced thin)
8 oz dry rice stick noodles or fresh egg noodles
Fresh mint
Fresh cilantro (roughly chopped)
Fresh basil
Fresh bean sprouts
Green onions (chopped)
1 lime (cut into wedges)
Hoisin sauce
Sriracha
Method:
Turn oven broiler on high.
On a small oven safe dish, place onion and ginger halves on top.
Coat evenly with oil.
Place on top shelf of oven and char both sides, about 8 to 10 minutes.
Pour broth in a large pot over medium heat.
Place the cinnamon stick, coriander seeds, fennel seeds, star anise, clove and cardamom pod in a mesh bag and tie tightly.
Add the mesh bag with seasonings into the broth along with the onion, ginger, fish sauce and salt.
Once it starts to simmer, turn heat to low to medium low.
Simmer uncovered for about an hour and 30 minutes.
Cook noodles per directions on package.
Drain the water and set aside.
Once the broth is done, taste and adjust the salt or fish sauce to preferred taste.
Pour broth through a fine mesh sieve to remove all chunks.
Discard the mesh bag and seasonings.
Place noodles in bowls and add a fair amount of the piping hot broth.
Add raw meat to each bowl so that it cooks immediately.
Add chopped green onions and cilantro.
Serve the rest of the garnishes on a plate.