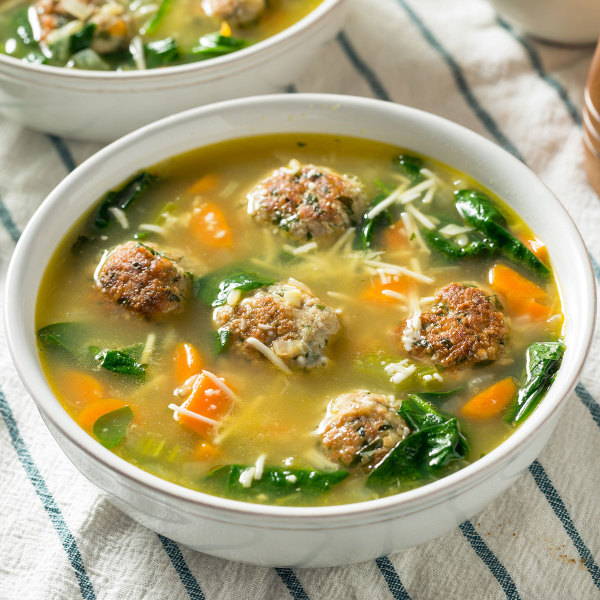 Serving Size:

6-8

  |  
Cook Time
:
35 min
Ingredients:
64 oz. Bone Broth (4 pouches)
1/2 medium yellow onion
1/3 c chopped fresh parsley
1 large egg
1 clove garlic
2 tsp coconut flour
1/4 c grated parmesan cheese
2 tsp celtic sea salt
1/2 tsp cracked black pepper
1 lb ground beef
1/2 lb lean pork
1 Tbsp tallow or ghee
2 c peeled & diced carrots
1 c diced celery
1/2 medium yellow onion
2-3 tsp celtic sea salt
1/2 tsp cracked black pepper
3 c baby spinach
Method:
Let's make the meatballs... finely chop the onions and combine with medium yellow onion, chopped fresh parsley, 1 large egg, clove garlic, coconut flour, grated parmesan cheese, celtic sea salt, cracked black pepper, ground beef, and lean pork
Form the meat into bite-sized meatballs and place on a rimmed baking sheet. Cover and refrigerate until ready to use.
Make the soup. Heat the tallow in a large stockpot over medium-high heat. Sautee the carrots, celery, and onion for 5 minutes.
Pour in the Osso Good Chicken Bone Broth, 2 tsp of salt and pepper and bring to a slow simmer.
Reduce the heat to medium and add the meatballs. Cover and cook for 8-10 minutes, until the meatballs are cooked through and floating to the top.
Stir in the spinach and cook for an additional 5 minutes or until wilted.
Season to taste, adding a dash of salt or cayenne pepper for heat.